How to Create an Exit-intent Popup in WordPress
Looking for the best exit-intent popup plugins for WordPress? We list the top plugins to boost your subscribers and sales.
Whether you want to increase your email subscribers or sales, an exit popup is a proven way for entrepreneurs and marketers to increase their conversions.
Exit popups are an easy way to get started with conversion-focused marketing as they can be added by simply using an exit-intent WordPress plugin.
With an exit popup, you can increase your email subscribers & sales by more than 10%.
These popups keep you in contact with site visitors and convert them into email subscribers.
There's a reason that every successful website owner follows the trend of using exit popups: because it makes visitors happy, prevents churn, and encourages more engagement.
And exit popup plugins give marketers all the tools they need to create popups that convert.
In this article, we cover everything about the exit-intent popup for your WordPress site.
What are exit-intent pop-ups?
Exit-intent popups are a type of popup that is used to capture the attention of people who have been browsing a website but are about to leave and never return.
Exit Intent Popups are becoming a popular way to capture leads as users are about to close a webpage. With this, marketers can offer something of value in exchange for signing up or providing their contact information.
These are typically used on websites with products, services, or information that people may want to know more about. They can also be used on blogs and social media sites like Facebook and Twitter.
Why Do You Need an Exit-Intent Popup for your WordPress website?
Before we jump into the best exit popup WordPress plugins, let's have a closer look at why exit popups are so important.
70% of people who visit your site but leave without taking any action are likely to never come back to your site. You've missed out on a huge opportunity by not using an exit-intent popup to encourages those visitors to convert and establish a relationship with them.
Exit popups allow you to show visitors one last message in a convenient way – and detecting when they are about to leave, it's an even more powerful way of doing this.
Do they work?
When you do it right, Exit popups can be an effective way of influencing conversion rates.
E-commerce stores, Bloggers, and SAAS companies use exit popups to:
Reduce cart abandonment with a discount or free shipping offer
Increase email signups by offering free resources like an eBook or checklist
Boost website traffic by recommending relevant and popular posts
Convert visitor to the customer by offering free demo signups
Irrelevant popups will frustrate your site visitors and damage your company's reputation. It doesn't matter how you feel about them, but the reality is that generic popups distract people from their experience with your site.
The best exit popups use great design, provide value, and target to keep your visitors on your site.
An example of this is automatically showing an online shopper that they're getting a discount as they're about to abandon their cart.
In other words, exit popups are proven to deliver dramatic results when they are engineered well.
Now, you might be wondering, how do you create a popup in WordPress?
The good news is that the Exit-intent popup plugins for WordPress let you create beautiful popup designs and use them to improve your conversions.
Here are a few factors you should consider when looking for an exit-intent popup plugin.
Best Exit-Intent Popup Plugins for WordPress
Here are a couple of criteria to consider when you're choosing an exit popup software:
Easy to use: Drag & drop elements make usability easier
Conversion ready templates: the best WordPress popup plugins will come with great templates that are proven to convert
Design flexibility: popup plugin should offer design flexibility to match the aesthetics of the website
Advanced targeting: great plugins feature advanced personalization and targeting options
Easy integration: make sure they integrates easily with WordPress and ESP's
A/B Testing: find a plugin that offers A/B testing and analytics to track and improve the performance
Now that you know what to look for in an exit popup WordPress plugin, you can evaluate the best for your site.
1. Qualzz
Qualzz is the best popup plugin WordPress when it comes to exit-intent popups. You can create stunning exit popups with its simple yet powerful drag & drop builder.
With Qualzz, you'll get conversion-ready templates that are specifically designed by the experts to recover your abandoning site visitors. Within minutes you can install the plugin and activate it.
Here's how it works.
On the desktop, Qualzz tracks the visitor's cursor movements and displays exit popups when the cursor moves towards the browser bar.
For mobile, the popup appears when the visitor scrolls up or to the bottom of the screen.
To get started, you can choose from the Qualzz conversion-ready templates or can create one from scratch to match your visitor's personas.
But you need more than just great design to convert your site visitors.
Qualzz's targeting and triggers are what make all the difference here.
One of the best things about Qualzz is that you get to customize exactly where and when your popup should show.
This means you're showing the right message to the right person.
Qualzz's targeting rules lets you display popups based on:
New or Returning visitors
Percent scroll
WordPress hover text popup
Visitor's Geographical location
Reference URL
Number of pages viewed
Time spent on your site
Browser specific
And so much more.
Qualzz's exit popups are so effective they helped e-commerce customers increase their email list by 200%. They also recovered almost 8% of abandoning visitors with a discount offer.
And Qualzz connects with your WordPress site easily. All you need to do is download the plugin, log into your account, connect the plugin with Qualzz tracking code, and start building great exit-intent campaigns.
You can get a taste of what Qualzz can do for your business by checking out our popup gallery. Exit-intent popups help you convert visitors into leads and buyers, so start building today!
2. Yeloni
Yeloni is free exit-intent popup plugin for WordPress. But you can't use Yeloni with responsive popups in its free version. For that, you'll have to upgrade to a premium plan.
It's a great choice if you're looking for a simple, free exit popup plugin.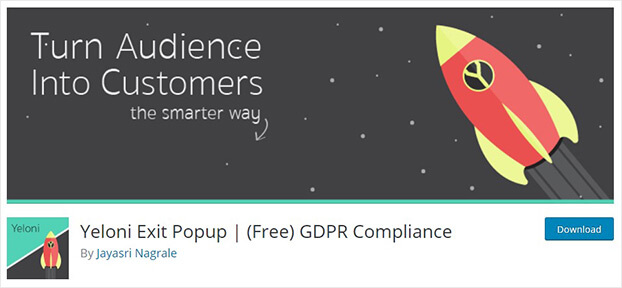 You'll be able to customize the look of your popup design to match your website.
Yeloni offers three exit intent triggers based on:
Mouse tracking
Browser back button click
Click a link
3. Optinmonster
OptinMonster is one of the leading Exit popup service providers in the industry.
Popups that ask people to subscribe are a great way to get your visitors' attention and keep them on your website. OptinMonster has made it easier with its exit popup for WordPress widgets, which drives more leads.
Here's an example:
OptinMonster is not only reliable but has every feature imaginable. However, it considers Exit Popups as one of its premium features. Meanwhile, other Exit Popups plugins on WordPress offer a lot more features.
Though OptinMonster is one of the early introducers of exit popup, newer popup plugins come with this feature too. That's not all, OptinMonster bills up to $29 per month for this feature while some other popup plugins allow you to use it for free.
4. Thrive leads
Like Qualzz, Thrive Leads also provides control over when and where to show your exit popup to your website visitors.

Provides options to display exit popups based on:
Home Page
Page
Post Category
Post
Thrive leads provides 8 different types of popups to its customers, an A/B testing, and a good number of ESP integration, Thrive Leads is a good choice when you are looking for an exit popup.
It offers attractive templates and an easy-to-use popup builder.
The Display Rules section takes a while to get the hang of – but once you do, setting up your targeting works well.
You can start using Thrive Leads for as low as $67 (1 license for 1 website) or you can become a Thrive Member and pay $19 per month.
5. Optimonk
Optimonk is a highly customizable popup builder that integrates with your analytics to generate popup campaigns targeted at viewers most likely to convert.
With this app, you'll get access to a number of templates and editors that let you create the exact web page you need.
Keep in mind that OptinMonster does offer a wider range of targeting for WordPress. This includes the ability to target specific WordPress categories using keywords and phrases.
Basic features:
Unlimited exit-intent popups
Premium template designs
Exit-intent, page scrolling, upon entry to the website or after "x" seconds
Integration with MailChimp, GetResponse, InfusionSoft, AWeber, etc.
6. Sumo
The campaign builder lets you change the colors and graphics of your popup. You can also edit your popup's layout in terms of text and images.
List Builder's exit popups are responsive, so they'll look great on mobile.
Its A/B testing helps you identify what copies and offers are most effective.
Display rules and conversion tracking, among other features, only come with paid plans.
You'll also need to pay to remove the Sumo branding
7. Elementor
With Elementor popup builder, you can easily create exit-intent popups that will boost your conversion rates.
There are various pre-built templates to choose from, and the targeting features are great for getting your message across.
Show on specific pages
Display on specific posts
Show on particular categories
You can also show exit popups after a certain number of page views or sessions. For example, you may want to show an exit popup after someone has stayed on your site for 5 minutes.
8. Popupmaker
Popup Maker is another exit-intent popup plugin for WordPress.
Let visitors choose the type of popup they want when they visit your website. They can choose between lightbox popups that darken the content behind it or individual popups that you can place anywhere on your site.
Customizing your popup's look is really easy with the editor. You can choose exactly how you want to target it or make it appear only on posts within a certain category.
While the popup plugin is free, you will need to pay to use the exit intent feature.
How to Create an Exit-intent Popup in WordPress
Creating an exit-intent popup on your WordPress website is easy, follow the below steps to start taking advantage of this proven conversion method.
Step 1: Install Qualzz plugin
Step 2: Signup to Qualzz
Step 3: Insert Qualzz tracking code in the website
Step 4: Create a campaign and activate it
Exit-Intent Popup Examples for WordPress
Below are examples of businesses using exit-intent popups on WordPress websites.
Show WordPress privacy policy popup to your website visitors
Display WordPress popup youtube video on the website showcasing the product demo or how-to videos
Show customer testimonials
Provide free shipping or discount codes
Show relevant products
We hope this article helped you find the best exit-intent popup plugin for WordPress. Get Started With an Exit-Intent Popup Today!
For more practical exit-intent strategies, check out these articles:
10 Exit-intent popup tips to increase sales
Want to build exit popups that turn your WordPress site visitors into subscribers? Get Qualzz today.